This post is also available in: Kreyol
"As a woman in this business, people tend to think of you as a cake. In order for them to support you or help you out in your career, they expect you to give a piece of that cake as a thank you." Princess Eud.
Princess Eud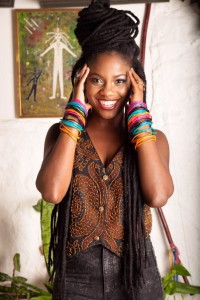 Name: Eudouarine Eud
Date of birth: April 25
Place of birth: Petion-Ville, Haiti
Edouarin Eunide, who we know by the name of Princess Eud is the first lady of rap music in Haiti. She was born in Petion-Ville, Haiti on April 25th. To me, Princess Eud is a "Fanm Fò" because of the woman that she is, and the path that she has managed to forge in a space that has little opportunity or openings for women. She is a fanm fò because of the image she has created for herself, her unique style, and her confidence. In speaking to Princess I got a real sense of her wisdom and her steadfastness to never compromise herself or conform for the sake of the industry. To Princess Eud, a woman's talent should be enough to make a viable career in this business.
This fanm fò is determined to prove that in the same way that the men have fought to make it in the spirit of Jean Jacques, she too as a woman can stomp grounds like Mary Jane to achieve her goals. Princess Eud's message for her fellow women inspires me. For the first lady of Haitian rap, women can make it without compromising their morals, and without giving into the mindset of letting others take advantage of you to succeed. This message is an inspiration for all women; rely on what's in your head more than anything else.
Photo credit: Samuel Dameus
TiSamy2k.Tumblr.com