This post is also available in: Kreyol
This post is also available in: Kreyòl
It's that time of the year again, when we celebrate the holidays with family, catch up with old friends, have our share of December flings, and most importantly get some Soup Joumou! I mean, what better way to start the year than commemorating the Haitian Independence with our loved ones, and binging all day on this super duper delicacy ? My best childhood memories are when at this time of the year, my beloved mom and grandmother would join forces to make the best Soup Joumou ever. Who else  thinks their mom makes the best Soup Joumou? Can I get an "Amen?!"
So, after flooding people's twitter and IG with your #SoupJoumou posts (you should check out that hashtag. Some of them from last year are kind of rough…), you will  return home, probably won't have Mom and Grandma around to spoil you with Soup Joumou throughout the year..And some of you will try to make it and fail miserably.  I have compiled a small list of places where you can find Soup Joumou year round.
1. Le Plaza Hotel, Port-au-Prince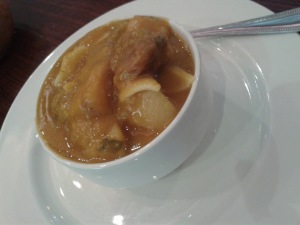 I started my Soup Joumou journey at Le Plaza Hotel. This is a charming and peaceful place right in the middle of Port au Prince, and I was generally pleased by the service.
My notes on Le Plaza's Soup Joumou:
– The soup looked dry
– A lot of macaroni. Too much, actually.
– Meat : beef. Small pieces. Definitely not enough. 🙁
– Plenty of potato. Not enough veggies.
All in all, it kind of tasted like Gerber baby food, but I must admit that although I am an adult, I am a big fan baby food. :).
– Price: the breakfast buffet at Hotel Le Plaza is  $12 USD.
RATING: 3 STARS
2. Hotel Cyvadier, Jacmel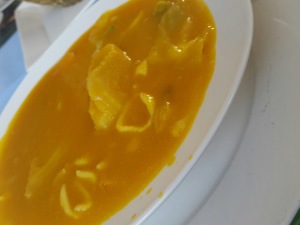 Ahhh Jacmel! The sun was shining. The view was breathtaking. Hotel Cyvadier in Jacmel is a naturally beautiful place, which put me in the right mood to sip on and rate my Soup Joumou.
My notes on Hotel Cyvadier's Soup Joumou:
– Moderate thickness
– A little too spicy in my taste. (But then again, if you like very spicy soup, this is the soup for you).
– A lot of veggies, mostly cabbage and carrots (which for me is a plus).
– But… but… where is the meat though ??!!
General review : I'm still looking for the meat. :-/
-Price: the soup joumou on the menu of Hotel Cyvadier costs around $8 USD.
RATING: 3 STARS
3. La Reserve Restaurant, Petion-Ville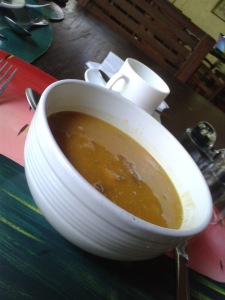 This was a nice Sunday morning. The kind for a Haitian guy like me to spend relaxing and watching soccer games. So, I decided to go watch the games at La Reserve Restaurant while enjoying their buffet breakfast. I was NOT disappointed.
My notes on La Reserve's Soup Joumou:
– Thickness on point !
– The right amount of spice (maannnn it tasted so good).
– No pasta ( I mean, we Haitians love our carbs. And macaroni in the soup is a must.)
– a lot, a lot, a lot of meat. (That one, particularly, was seemed to be grilled before being added in the soup, giving it a nice smokey taste. And it was so good.)
– No veggies (Oh well, I guess you can't have it all. Life is not easy).
– Lots of potatoes (Euh… okay… only extremes here)
General review : the soup was so delicious, but the absence of veggies and pasta is kind of… bittersweet.
– Price : the Sunday breakfast buffet at La Reserve costs 470 HTG.
RATING: 4 STARS
4. Sunrise Bakery, Fort Lauderdale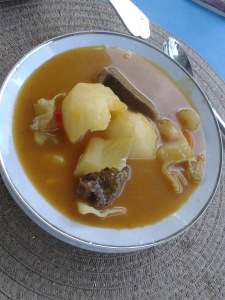 I spent a few days in Florida, and as I was doing a little bit of research for this article I thought it would be great to see how the diaspora fared SoupJoumou-wise (yes ! I do invent words). Sooo my old friend Ralph brought me to Sunrise Bakery in Fort Lauderdale. And I was amazed! At Sunrise Bakery, the soup is ready every Sunday at 8 am. People usually place orders for takeout in advance, which means that by 8:30, it is likely that you will get there and find none left. There's an old story they tell at the Bakery about a Haitian  lady who ordered a huge batch of soup at Sunrise Bakery one Sunday, and brought it to her church, telling everyone that she was the one who actually cooked  it. Really, Soeur Myrlande, really ???!!! All this to tell you how delicious Sunrise Bakery's soup is.
So here are my notes on Sunrise Bakery's Soup Joumou:
– Thickness : perfect.
– Spice : not too spicy, not too mild, with high notes of lime (and the meat was very well seasoned!!)
– The right amount of pasta.
– Fresh, tender meat, and bones (I know the Haitian in you loves sucking the juice out of bones hahaha)
– Fair amount of veggies, mostly carrot and cabbage.
– Fresh potatoes (I still remember how good it tasted).
– And, the big plus: they serve it with fresh bread !!
General review: we took the soup to go and we had a wonderful time catching up, my buddies Ralph, Berkens, and I. I have always believed that great food has the power to bring people together, and that's exactly what the soup at Sunrise Bakery did.
– Price : one bowl to go, with bread, costs $6 USD. (But you might wanna get a second one, if ever Soeur Myrlande gives you the chance. ok Tilé, stop trolling).
RATING 4.5 STARS (mostly because only one soup joumou gets 5 stars : my mom's.)
5. My mom, your mom, your aunt, your Grandma – at Home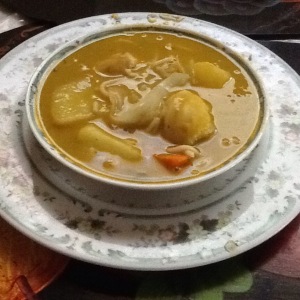 No matter how critical you could be of the soup served in various places, the one that will always be the best is the one served at home. Whether it's made by Mom, Grandma, Aunt, or the cook, Soup Joumou made at home is made and served with love. The meat is seasoned  with kindness, the veggies are added with warm embrace, and the whole mixture makes you feel Home like nothing else.
Soup Joumou, building memories in Haitian families since January 1st, 1804.
RATING: 5 STARS