This post is also available in: Kreyol
(This post was originally written in Kreyòl)
"When I am drawing, it becomes my essence. I truly become myself." – Pierre Richard Raphaël
One afternoon, the light on my phone went off, I smiled because it reminded me of the days of Blackberry craze. This time, however, it was a whatsapp instead of a BBM from a good friend of mine inviting me to attend an art show at Yanvalou. In the days leading up to the event, I was very excited because I could not wait to see what the ENARTS students would showcase. On the day of the event, in a corner, three paintings by Pierre Richard Raphaël enthralled my father and I and made me exclaim: "I want that painting! No, I need that painting!!" I found not only his imagination, but also his technique, his use of color and the complexity of his work intrigued me.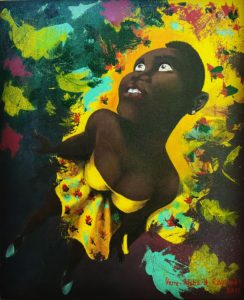 Some time after that, Gessica Généus showed me the artwork for her new book Yon ti Koze ak Sè m, and I was happily surprised to see that Pierre Richard was the artist behind it. I also learned that he designed the artwork for Belo's latest album Dizan. This was too much. So, I decided to go to ENARTS to go meet with the artist so he can tell me more about himself. I navigated through the protest held by the public hospital doctors, stopped for a bit to hear what their demands were, and made my way to the school where a Basquiat graffiti greeted me which made me feel right at home. Pierre Richard and his full beard greeted me, he seemed a bit shy, but very cool. I followed him and his girlfriend to a classroom where we could sit down and get to know each other better.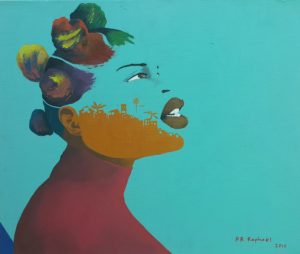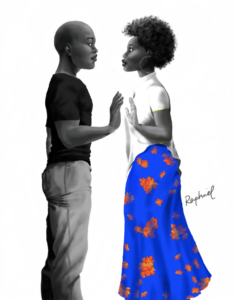 Pierre Richard is 25 years old and has been a student at ENARTS since 2012. His two projects with Belo and Gessica Généus, which I mentioned above, came out earlier this year. This would have been the end of this blog post had I not enjoyed a fresco and a heart-to-heart with Pierre Richard that day. Since then I've learned that he has been drawing since he was four years old, but as a child, dreamed of being a diplomat like his neighbor who always wore fancy suits. When it became time to attend college, Pierre Richard realized that diplomacy involved more than fancy suits, and decided to enroll in an IT program, per his father's recommendation. However, when you like technology, but hate math, you might prefer to spend your time drawing during lectures instead of listening to what's being taught. So after spending 3 years studying things unrelated to art, he decided to tell his family that he would enroll at ENARTS. His parents, like all Haitian parents wondered how he would make a living as an artist. However, once they noticed his success, they started to support him 100%.

His journey as an artist did not start in 2012. At 14, Pierre Richard illustrated a hurricane campaign for a non-profit organization. In 2007, he drew several paintings for his participation in the "Solèy Leve" themed carnival which was to honor Tiga's "Sen Solèy movement. Guy Regis advised Gessica to choose him as the illustrator for her book and for the campaign following the book's release. From then, Gessica referred him to Belo who wanted a portrait with the 22 artists who participated on his album. This was a challenge for Pierre Richard, but he succeeded. 
I asked Pierre Richard what inspires him, he told me he chooses his subject based on what grabs his attention. "I enjoy the way the idea for a scene speaks to me, and the way it makes me dream. The more a scene speaks to me, the more it excites me to express myself in a way that truly reflects my soul."
"I enjoy the way the idea for a scene speaks to me, and the way it makes me dream. The more a scene speaks to me, the more it excites me to express myself in a way that truly reflects my soul."
One of my favorite quotes from Raphael is this: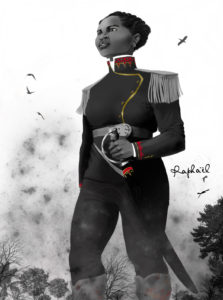 "When I am drawing, it becomes my essence. I truly become myself." This statement is reflected in his art. We know how hard it can be for a young Haitian to turn away from a regular 8 to 5 to pursue an artistic career, especially since there are so many examples of extremely talented artists who have never managed to make a living. The public loves what we produce but refuse to consider it as work to compensate us accordingly. I hope that Pierre Richard and other artists who are self-taught or  ENARTS trained will be able to forge their path going foward.
You can follow Pierre Richard Raphaël on Instagram at @Rickyphael