Although soccer is one of Haiti's favorite pastimes, Haitians have not had the opportunity to support a Haitian team in a major competition in a while. So we adopt other teams like Brazil, Argentina, Italy, France, Germany, to lend our support to. But this year, our Haitian Grenadye have qualified for the June 2016 Copa America Centenario and we are hype! We finally have our own to cheer for! Through all the Copa schedules and talks, our colors and our name will be featured, and I for one am beaming with pride. Many are outright dismissing the possibility that Haiti will have any impact in the competition, but we also didn't think we could make it to the Copa in the first place, so I wouldn't give too much weight to the nonbelievers. Others are cautiously optimistic. Personally, I cannot wait to hear our Desallinienne played and our flag raised on national TV. I am looking forward to the competitions, and I encourage other soccer fans to put on our country colors and cheer on our boys.
This edition of the Copa America celebrates 100 years of the competition and will be hosted by the United States from June 3rd to June 26. 16 countries will take part: Argentina, Bolivia, Brazil, Chile, Colombia, Costa Rica, Ecuador, Haiti, Jamaica, Mexico, Panama, Paraguay, Peru, Uruguay, United States, and Venezuela. The Grenadye have been drawn into Group B and will face Peru (in Seattle, WA, June 4th), Brazil (in Orlando, FL, June8), and Ecuador (in East Rutherford, NJ, June 12). Then comes the elimination rounds. The final is set for June 26, in East Rutherford, NJ.
While we the fans have been impatiently waiting for the competition to begin, the Grenadye have been hard at work, training at the IMG Academy in Bradenton, Fl with one goal in mind: to perform at their very best. I spoke with Leonard Pierre, athletic therapist with the Haitian Federation, who had this to say: "They are great guys with a lot of passion and want to bring happiness to the country. It all started at IMG in Bradenton, FL with one goal in mind: perform at their very best. All players are motivated and ready to play. In my opinion, the coaches are doing a heck of a job. From my past experience working with professional teams in the NFL, I can say they know what they are doing, and are very professional."
Let's meet the Grenadye! The charge will be led by Johny Placide, our goalkeeper and the goalkeeper for the French side Reims. Also featured is Duckens Nazon, our main forward. The Frenchman Patrice Neveu will be on the sidelines as manager. Here is a complete list of the 23 selected: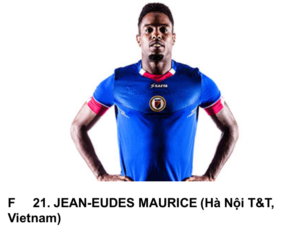 The competition starts today June 3rd, with the hosts, the United States, playing Columbia in the opening game. Haiti's bid starts tomorrow June 4th, versus Peru. Let's salute our red and blue banner, and cheer on our Grenadye. I'm rooting for them to make it all the way! Grenadye alaso!
Complete Copa America schedule
Photos via http://fhfhaiti.com