This post is also available in: Kreyol
All over Haitian social media the past few days, the story of a young Haitian woman left at the altar by her fiance has been shared constantly. The videos, articles and photos feature a lovely bride in her white dress and veil, passed out from emotion, being carried out through a crowd by two men. "What good man would leave a beautiful woman like this?" one person commented under an article. "You never know," another responded, "she might be a slut." 
It turns out that this whole scene was staged by BIT Haiti, a small troupe of six actors, who specialize in street theater and invisible theater. I had a chance to talk to Eliezér Guerismé, one of the founders and actors of BIT Haiti.
 Can you tell us about BIT Haiti, and how it got started?
BIT Haiti is a theater company that was founded in 2011 after a seminar led by two French directors in Haiti for the Quatre Chemins Festival. The two of them have a theater company named Théâtre de l'Unité. Eight of us actors who participated in the seminar decided to keep in touch, and start our own company from there. We all came from different places, some of us were already acquainted with each other, but none of us had ever planned to work together professionally. We have been working together for four years now. Some members have left the troupe along the way, but we have been going strong nonetheless. Among the eight who started BIT, five of us are still a members, and today the troupe has six actors.
When we do invisible theater, we are no longer the owners of the show; the spectators become the owners of the show and, in that moment, they become actors too.
What type of theater do you do? And what do you wish to accomplish with it?
We are a street theater company. When I say "street" I mean any location that was not meant for theater. Our objective is to popularize this artform in Haiti, give it more structure, and allow more of these types of projects to take place. For example, right now we are working at the women's prison of Petion-Ville. We work with the women, we train them, rehearse with them and put on shows with them.
The wedding piece that everyone has been talking about is an example of "invisible theater." This means, you are at a show, but you do not know that you are actually at a show. We start with a topic, and we use real spaces as our set, as opposed to building one. We use reality as our decor: the street, the cars driving by, bystanders, vendors on the sidewalks. We capture these things, and we capture the situation and we make them become part of our show. When we do invisible theater, we are no longer the owners of the show; the spectators become the owners of the show and, in that moment, they become actors too.

Tell us about this wedding skit, how did the idea come about?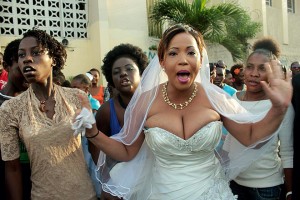 The idea came from the two French directors who trained us.  We took the idea and built on it based on our societal context. I play the role of the best man in this piece. In it, the bride, after waiting for some time in the car that drove her, decides to get out and see what the hold up is in front of St. Pierre church. When she realizes that her groom is not there, we receive a phone call saying that the groom is at Place Boyer getting drunk with a group of guys saying he does not want to get married anymore. So we, and the crowd we've gathered by now, start walking to Place Boyer to confront him. When we get there, the bride and groom have an argument which ends with the bride fainting. We carry her unconscious body away, and that is the end of the piece. In the photo, you can see two people carrying the bride away. The man in gray is me, but the other man helping me is a spectator who has no idea that this was theater.
This is the fourth time we have put on this production. The first time was in Aquin in 2013, we did it once at Bwa Verna, another time at Avenue Christophe, and this week again in Petion-Ville for Carifesta. The recent one we put on drew a crowd of about 2,000 people according to a Guadeloupean journalist who was at the scene.
The goal is to raise questions, and the day I no longer have questions to ask about society, I'll quit theater and find something else to do.
What kind of impact do you think your pieces have on your spectators?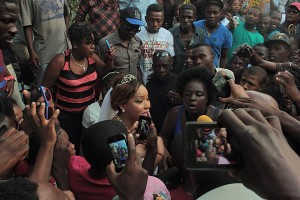 The goal of any comedian or actor is to ask questions. In all of our projects we seek to raise questions about society, on things that we find problematic, and give people the opportunity to question these things along with us.
In this recent performance, people thought they were making fun of and harassing this unfortunate bride, but in the end, they turned out to be making fun of themselves. As they chased this bride, held up their phones to record her and snap photos, cursed at her, laughed at her, made speeches about her, they were really saying and doing all of these things about themselves. Invisible theater is YOU. The people are looking at themselves. The goal is to raise questions, and the day I no longer have questions to ask about society, I'll quit theater and find something else to do.
What lesson do you hope people take away from this?
I am not in a position to teach lessons. I don't think there really is a lesson or moral. What is important is that we came into a space, and got a ball rolling. It is as if we told the people of Petion-Ville "here is this topic, do with it what you wish." And from there, society will decide what lesson or moral they wish to take away from that situation.
The introduction of social media to Haitian culture is a curious, often awkward, yet powerful phenomenon. It is a constant churning of viral, often problematic, but hilarious memes and videos. This phenomenon has given us hits like Bye Bye Nicole and Fofo, and like invisible theater, it tells us a lot about ourselves and our society by what we take pleasure in. Sometimes the takeaway from these viral memes aren't very profound. Other times it reveals something peculiar and even disturbing in ourselves, and theater pieces like these allow us to take a minute to reflect on it. "Hehey! Mwen pral poste'l sou face la!" (Hey! Let me post this on Facebook!) a woman recording on her smartphone screamed hysterically as she chased, what she thought was a frantic young woman who had just been left at the altar by her lover around Petion-ville. Guerismé and the rest of his troupe might not realize this, but their piece did not end at Place Boyer that day, the streets continue to keep it alive via forums, Facebook, Twitter, and Instagram. Will we take the time to reflect on the questions it has raised about us?
BIT Haiti can be found on Facebook. Their next performance is on Thursday in front of FOKAL (Avenue Christophe) at 4:00 pm.
Cast: Régina Lazarre (bride), Chelson Ermoza (groom), Eliezér Guérismé (best man), Jenny Cadet, Sachernka Anacassis, Clorette Jacinthe (family and friends)
Photo Credit: Yves Osner Dorvil