This post is also available in: Kreyol
For the past few weeks we've watched big and small political parties prepare for the elections tomorrow, August 9th. These elections are 4 years late, and everyone is in a frenzy. Campaigning began on July 9th, timidly at first because the campaign funding allotted for the political parties by the electoral council was disbursed three weeks late. This wasn't a setback for major parties such as Verite, PHTK, Bouclier, and LAPEH to name a few. One month of campaigning has costed 5 lives, and 27 people injuries. Tomorrow will not be an ordinary day.
Electoral campaigns are quite the fiasco, but on the bright side, it creates small job opportunities for the kids on the block like posting and protecting candidate posters and billboards in strategic areas. If you don't have people hired to keep an eye on these things for you, don't waste your time posting them because they will be torn down in no time.
(before and after)
Verite is in first place in terms of the number of posters they have posted in the streets. Everywhere, since the first day of campaigning has been taken over by the Verite platform number 69 images. I have a feeling the number 69 might be many people's favorite number.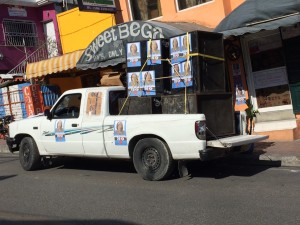 I think the candidates have succeeded more at making people not want to vote for them more than anything else. A lot of campaigning methods cause a lot of issues. A few examples: candidates use cars with huge speakers blasting music at all times to spread their messages. These music blasting cars go in all neighborhoods, sometimes too early or too late in the night. You can complain all you want, but you'll just be complaining to yourself.
Another issue caused by campaigning is candidates and their partisans posting photos everywhere that end up only adding to the piles of waste in the streets. I dare you to find a pile of trash in the streets in Haiti right now that isn't made up of mostly campaign posters. They stick the photos on the walls of people's houses, forcing homeowners to repaint their walls or wait until elections are over to make their houses and businesses look good again.
Another campaign related headache is the constant phonecalls. All day, people are receiving phone calls from candidates asking them to vote for them, explaining that they're good people and how great of a leader they will be. I have personally received 10 phone calls from the candidate for deputy for Delmas, Gary Bordeau. The other day, I was all the way in Port Salut relaxing on a little beach, when I got a call from him telling me that he is a child of Delmas and that I should vote for him. I would like to take this time to let him know that he disturbed my zen, and to never call me again. I won't be voting for you.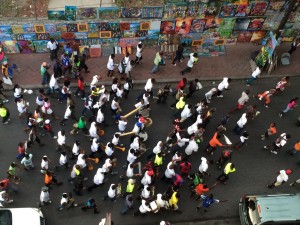 The final and most serious of campaigning issues is that the candidates are all talk. I have never seen a campaigning candidate present an actual program, they only list grandiose promises. They are quite talented at creating elaborate empty promises, and never delivering. During the electoral campaigns of 2010, Michel Martelly promised to build 30,000 houses for people in tent cities. He accuses the former president René Preval of keeping him from being able to accomplish this. President Martelly also promised to create 500,000 jobs during his time as president. But let's be fair, his mandate isn't quite over. He has a few months left, so let's wait and see.
Not everyone is complaining about the candidates' shenannigans during this campaign season. People who rent sound systems, billboards, DJs, photo and printing companies, rara bands are all profiting a lot during this season. It is a time where a lot of money is shelled out for various reasons from posting photos to paying people to cause trouble and shut voting booths down come election day.
In many ways, everyone stands to gain from election season, but some gain the positive and others the negative effects. One way everyone benefits from campaigning is the fun it brings, many of the slogans and posters are pure comedy. These hilarious slogans and candidate photos make the season just a little less depressing.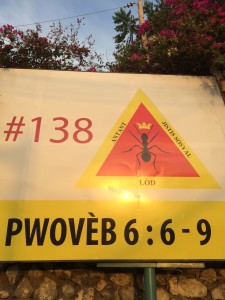 Proverbs 6:6-9 "Go to the ant, you sluggard; consider its ways and be wise! It has no commander, no overseer or ruler, yet it stores its provisions in summer and gathers its food at harvest." (huh?)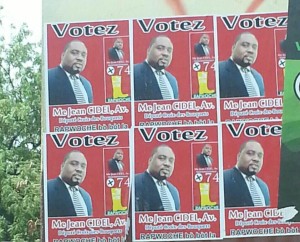 Vote bò bòt la
This is the first round of legislative elections for the electoral calendar that ends in January 2016. As we speak, Haiti is in a very delicate position because there aren't many legitimate democratic institutions functioning. No matter what your political stances are, it is important to play a role in the upcoming elections. In a democracy, elections are everyone's concern. Whether you vote or not, you will be affected by these elections. Historically, elections in Haiti always end badly, but don't forget that we are all responsible at the end of the day. Let us respect each other and show that we can all live together despite our differences.
This post was originally written in: Kreyòl