We tell people to come out of silence. Do not be afraid to say that you have been victimized.
Malya Villard Appolon 

2012 CNN Heroes finalist

2014 Woy Magazine Fanm Fò
I met Malya Villard Appolon in 2011 while I was working at the Bureau des Avocats Internationaux (BAI), a public interest law firm in Port-au-Prince, Haiti. The BAI, partnered with the women's grassroots organization Komisyon Fanm Viktim pou Viktim[1] (Commission of Women Victims for Victims) (KOFAVIV), to represent victims of sexual assault in Haitian courts while KOFAVIV provided the women with shelter, psychological and sociological support. Malya, along with Eramithe Delva ran KOFAVIV and became a lifeline to so many women and girls victims of some of the worst forms of sexual violence following the 2010 earthquake. As the name KOFAVIV suggests, Malya herself, her daughter, and many of the women of KOFAVIV are rape survivors.
When she and her daughter were victimized, she remained steadfast in her fight to ensure that perpetrators of sexual assaults are prosecuted. When the Haitian justice system failed to prosecute cases, she never wavered in her belief that those women deserved justice and continued her advocacy on behalf of those women.
Similar to Haitian society as a whole, the women's rights movement in Haiti has by and large excluded poor Haitian women who are the most victimized. Malya and her partners have provided a platform for poor Haitian women to raise their voices against crimes perpetuated against them. Malya is unapologetically passionate about her work. Thanks partly to her organization's advocacy, there have actually been a few rape convictions in Haiti.  
Malya is a Fanm Fò because while she and her family were still living in a tent camp, she continued to organize, assist and encourage women and girls victims of sexual violence. She is a Fanm Fò for her work through KOFAVIV; for her refusal to allow adversity to determine who she should be; for her fierce determination that Haitian women, particularly poor Haitian women should no longer suffer in silence.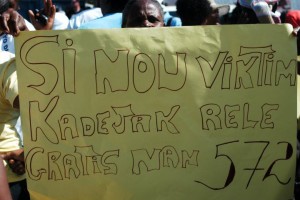 Malya and her family have had to flee Haiti because of ongoing threats to their lives. They are currently living in the United States, but are not currently permited to work. You can help Malya and her family by donating to her GoFundMe.
For a long analysis on roadblocks sexual assault victims face while seeking justice in Haiti, see here.
___________________________________________________________________________________________________________________________