Here at Woy, our slogan is "Haiti through our voices." However today, we thought we might change it up a bit. Here are a few anecdotes and observations by some of the missionaries and adventurers who felt called to don their capes and come save Haiti and  Haitians, brought to you by the Facebook page "You know you're in Haiti when…" 
A few jokes about the recent carnival tragedy.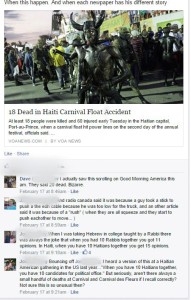 ….?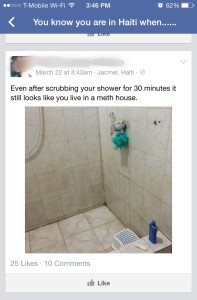 Begging… nature or nurture?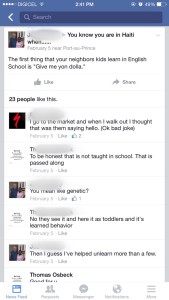 Ah yes, looting and rioting for plastic bags. 2 likes for you.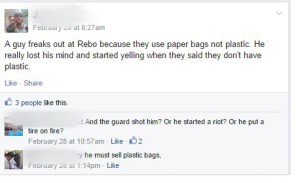 Ah, and my favorite: "If they had any intelligence at all, which we all know they don't…"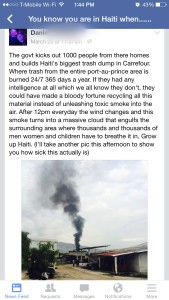 Maybe life in Haiti is so hard that it's necessary to have a page where you can vent. Maybe you're just too sensitive. Maybe.
 Update: (3/25/15) this article was shared on the group page. After much discussion, no apology or explanation was offered for the offensive statements found in this post, quite the opposite. The group's reaction was instead to make it a private group, and to block people who voiced their offense at the messages found in the group. This way, they can continue to be insensitive in private. "I'm trying to keep this page fun," the group administrator wrote. Once again, the realization that things found on this page hurt Haitians was never addressed.
The following is a response from one of the group's most active members to our post: "…there are a great many in Haiti who think that Haiti would be fine without any outsiders at all and are pressing that issue especially with the press. Take all of the outsiders out of this place and it would be nothing but a gang war within a couple of weeks. Want to pick on a group, look into the Haitian Diapora. They, for the most part, are First World educated, many with higher degrees. Where do they want to live and what do they want to do? Anything but live and work in Haiti when they are most capable people of all to ever make this place work…"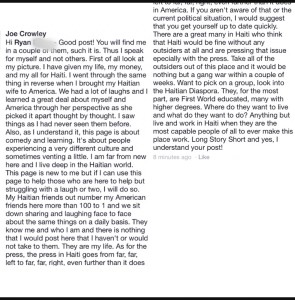 I would like to point out to Mr. Crowley that nobody at Woy Magazine has ever called for all outsiders to leave Haiti.  I have known many foreigners in Haiti throughout my life that I have a lot of respect for. However, foreigners who feel confident to type "take all of the outsiders out of this place and it would be nothing but a gang war within a couple of weeks"? Well, I don't have you in the same category as the expats that I hold in high esteem. And I would argue, it is such attitudes and condescension that Haitians and the Haitian press would like to see leave.