(Kreyòl Translation coming soon)
Don't feel like going to Carnival? Tilé has provided an extensive list of amazing things you can do in Haiti during the Carnival break. All of these are also great trip ideas for any time of the year!
Almost everyone is extremely excited about Carnival. However, there are a few of you who choose not to partake in the festivities for different reasons: either religious reasons, or you don't like big crowds (I kind of fall under this category), or you are just tired of the same old, same old. Do you want to do something different during these three vacation days?? How about spending some time with your family, or escaping with your significant other? I have compiled a few ideas based on personal experience that might help you. So, let's jump right in!
1. The Ultimate countryside Carnival experience 
Carnival in the countryside is definitely a special experience. You get to feel the subtle cultural flavor of the place, and live the experience as a local. And the food, the food! So last year, lovely lady friend and I decided to do just that.
Day 1 (Sunday) : drive from Port-au-Prince to Jacmel. Spend the day at Bassin Bleu. In the evening, go back to Jacmel and experience the local carnival. The local carnival in Jacmel is completely different from the national Jacmel carnival that takes place a week earlier. In fact, it is more of a parade where traveling bands compete for the best marching choreography, while wearing beautiful costumes. You are guaranteed to have a great time.
Lodging & accommodations:  You can either stay in Jacmel (I recommend you make a reservation), or you can sleep nearby in Petit-Goave which is cheaper. If you want to save money, you might as well do the two-hour drive back to Port-au-Prince.
This photo of Bassin Bleu is courtesy of TripAdvisor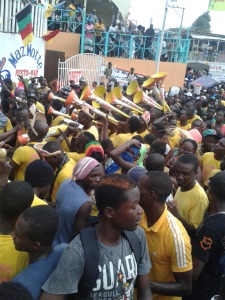 Jacmel Local Carnival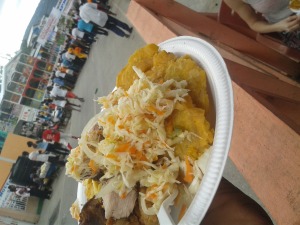 Fritay in Jacmel!
Day 2 (Monday) : Drive to the South Coast. I have always been a big fan of the south coast of Haiti. There are stops all along the way that I can recommend to you for a good time.
Carrefour Dufort to buy mangoes.
Petit-Goave where you can get some delicious dous makòs from Chez Madame Labarre. Speaking of dous makòs, have you tried graten dous makòs yet? It is a must.
Etang de Miragoane (Pond) for beautiful sightseeing, and an opportunity to get a lot of likes on your Instagram. (Haha, you thought I didn't know??)
On the way from Aquin to Saint-Louis du Sud, you might want to stop a few times to capture the amazing view. And by the time you make it to Les Cayes, it will be lunchtime and you will be starving. Where to go? Chez Ma Tante at Gelée. The BEST food you will find in the area. You won't regret it. 🙂
Next, I would advise you to go burn all those calories you just ate. Drive along the coast until you get to Coteaux. You will get to visit the "500 Marches" (500 stairs), a religious pilgrimage monument. From up there, the view is breathtaking.
At this point, you will surely be exhausted. Go spend a relaxing evening on the fine sandy beach at Pointe Sable, Port Salut. At night, experience the local Carnival there. Dance, walk around, taste the local drinks, eat their conch with the special spicy sauce.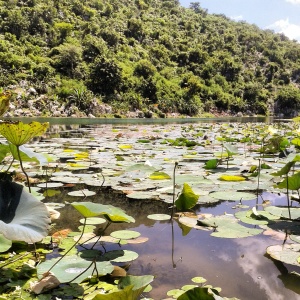 Etang de Miragoane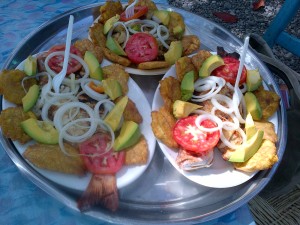 Chez Matante
Lodging & accommodations: There are many hotels in Port Salut. I would recommend you choose one that is close to the beach. Why? Because then, you can drink all you want without worrying about driving. 🙂
Day 3 (Tuesday): Imagine waking up late in the morning, yawning, stretching (maybe cuddling) to the sound of the nearby crashing waves. Do you feel like staying put for the rest of the day? Or do you feel energized and ready to for the third portion of The Ultimate Countryside Carnival Experience? Start your engine, and drive to Camp Perrin.
At Camp Perrin in the afternoon, we stayed at Family Villa Hotel, a simple, cozy inn with bungalows. Each bungalow has a patio, with a rocking chair. At night, we took to the streets again to dance to the Carnival music and chase the floats.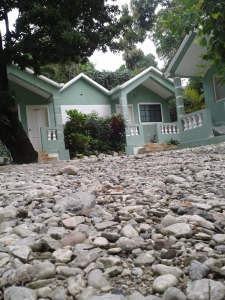 Family Villa Camp Perrin
Day 4 (Wednesday) : Back to Port-au-Prince. But wait! Before that, there is still time for a quick visit to Saut Mathurine, 15 minutes from Camp Perrin. You shouldn't miss it.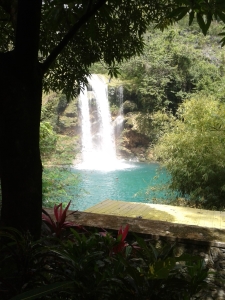 Saut Mathurine
Budget for the Ultimate countryside Carnival experience: 
Gas : 4,000 HTG (2 full tanks)
Hotel and Food: 5,000 HTG per person
2. Beach and a two day retreat in the mountains 
 If you like the beach but also love the peacefulness of the mountains, why not take advantage of the few days off and combine both? This option does not require much driving: 
Day 1 (Sunday): Drive to Fort Royal Hotel in Petit-Goave. This is a very peaceful place where, I had the best kabrit boukannen (grilled goat) of my life. This place also offers transportation services to Bananiers, a natural beach nearby that is mostly accessible by boat. For a fee that includes the boat ride, food and drink, you can spend the whole day there. You can also choose to sleep at the hotel at night, or move on to the mountains for day two. 
Days 2  and 3 (Monday and Tuesday): Near Petit Goave, up in the mountains lies a rustic village called Vallue. That is where Villa Ban Yen is found, an eco-friendly hotel. Villa Ban-Yen offers a Valentine's/Carnival Package that includes: walks in the countryside, visit of the vegetal museum, folklore music sessions, romantic dinner, etc. Not included in the package, you can also take advantage of their horse rides, or the famous massage creole.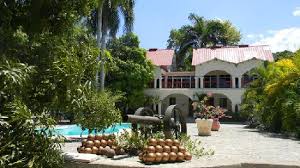 Hotel Fort Royal via Trip Advisor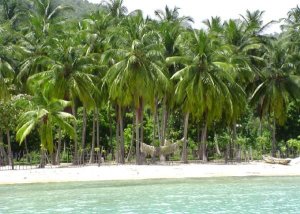 Bananier Beach
Budget for Beach and 2 day retreat in the mountains:
Gas: 1500 HTG
Day at the beach: U.S. $40 per person
Villa Ban-Yen: U.S. $85 for 2 for the room. Visit of Botanical Gardens U.S. $3.00. Horse ride for 2 hours $10
3. Far far away in a place for two 
Do you want to go far away with a few friends or significant other? Escape to Grand-Anse. From Port- au- Prince, it is a very long 6 hour drive, maybe longer if you stop to take pictures of the breathtaking view along the way. Since the drive will practically take a full day each way, I would advise you to choose the most interesting person you know to accompany you on this trip. When you get there, you will have the chance to visit the city (old and new cathedrals, the historical buildings). Also, plan to go to Anse d'Azur, another beautiful natural beach that has nothing to envy of the beaches in Greece that you usually see on the Internet. Yes, I said it. 
Lodging & Accomodations:  Auberge Inn is the place to stay. This inn built in the 60's has a vintage feel to it, wooden floors and stairs, a great host and a superb culinary experience. However, if you are interested, please note that they don't have a lot of rooms. I would advise you to call them right now. Someone I know has already reserved one of them, FYI. 
Auberge Inn via

triphaiti.com
Budget for the Far Far Away Place for Two
Gas: 4,000 HTG (2 full tanks)
Hotel : U.S. $ 240 for two people
Food : U.S. $50 
4. Low budget one-day trips 
If you are planning to go to the Carnival for one day, and do something else the remaining days, or you do not feel like sleeping away from home, or you have budget restrictions, this section is for you. There are several places you can go for one day that definitely fit the bill.
Discovering the Plateau Central : Saut d'eau (near Mirebalais)
Saut d' Eau is not very far from Port-au-Prince.  An hour and half and you will be ready to hike up the waterfall, and take a cold (and even spiritually healing, many believe) shower. Hungry ? There are griyo vendors right outside.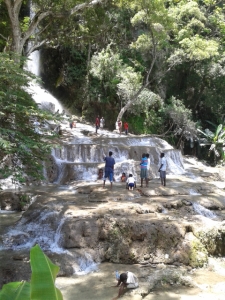 Saut  d'eau
Budget
Gas: 1,500 HTG (diesel will cost less)
Food: 200 HTG 
Deeper into the Plateau Central: Peligre, Hinche and Bassin Zim 
Bassin Zim is a huge natural pool, fed by a waterfall. On top of it, there is a cave you can visit. Just half an hour from Hinche, you can enjoy this great place for free. To add to the experience, stop by Peligre on the way, and don't miss the Pentad Griye (guinea fowl) for lunch, the specialty of Hinche.  My personal favorite place to have this dish is at Eben Ezer Restaurant. 
Bassin Zim via

Gio Jules
Budget
Gas: 2,000 HTG (of course, for diesel cars it will be less)
Food : 500 HTG per person 
Raymond Les bains (Jacmel)
Head to the South East. The drive to Jacmel from Port-au-Prince is two hours, the grilled fish is among the best you can find, and you won't spend much.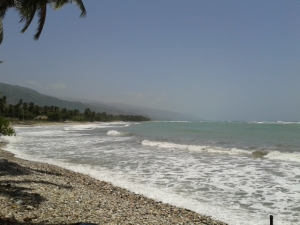 Raymond Les Bains
Budget 
Gas : 1,500 HTG
Entrance to the beach: 100 HTG per car
Food: 350 HTG per person. That is, if you drink one beer only. 
Kokoye Anglade (Aquin)
The first time I went to this place, the view, and the feel of the warm sand on my feet made it one of my favorite places on earth. Kokoye Anglade is a natural beach only two hours and a half from Port-au-Prince, in Aquin. See me in the picture? As the French would say: "Que du Bonheur."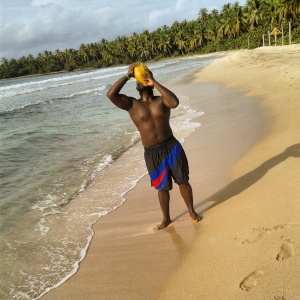 Kokoye Anglade
Budget
Gas : 1,500 HTG
Entrance to the beach: 250 HTG
Food : 350 HTG per person 
Staying in Port-au-Prince : Art, History and Food in Fermathe
Not too far from the capital, you can spend a great day without going to the Carnival, and without spending much. You can even take public transportation. I've done it several times. You can take a  take a kamyonèt (or drive) to Fermathe.
First, stop, Mountain Maid(or kay Wallace). They have a small Haitian History museum, an art boutique and they sell the best brownies, or as we Haitians call it, "bwòniz". 

Then, right across Mountain Maid are a couple of local accordable art stores.

Our third stop will be for food and drinks. Walk 50 meters and you get to the bus station, where you will find the famous fritay of Fermathe. Also, please have some Café du Soir. 
Walk five minutes up the road and you will find the Musée Fondation Theard, and enjoy the beautiful paintings. 
Our last stop of the day will be at Fort Jacques. Take the 30 minutes= walk (you could use the exercise, anyway) or take a 5 minute taxi-moto ride. The fort is closed right now, but will be opening again soon.
Take a kamyonèt back home, and you just had an awesome day!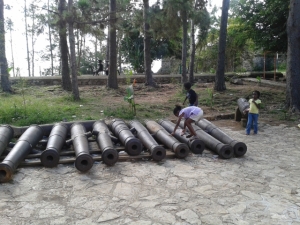 Fort Jacques
Budget 
Public transportation: 100 HTG per person
Food and drink: 200 HTG per person
Do you have any awesome, unusual plans during Carnival ? Feel free to share. 
Photos Courtesy of Trip Haiti, Trip Advisor, Gio Jules and my Smart Phone