This post is also available in: Kreyol
This post is also available in: Kreyòl
While I fully support these artists' right to free speech and expression, I equally value the right of everyone to participate in the carnival without any fear for their safety and well-being.
In 2001, King Posse's carnival song included these lyrics: "Ou met tifi ou met piti ou ka vinn pran plezi w'," meaning, "Whether you're a young woman or a child you can come have fun." This line epitomizes the inclusive aspect of Haiti's carnival. Indeed, Carnival is one of the few times, when Haitians come together to eat, drink, and be merry regardless of gender, political affiliation or economic status. It is a chance for Haitians to forget their hardships and frustrations, and have a pure, unadulterated good time. It is this magic that entices tourists and diaspora to make the trip year after year. My love for carnival was passed down to me by mother, who first brought me to carnival while she was still pregnant with me. From that point, I went to every single carnival until I left Haiti in 2003.
The bands participating in the parade largely set the tone for  Carnival's atmosphere. Artists have a lot of influence during this time, as Carnival provides them not only with great visibility in Haiti and around the world, but also with an opportunity for longevity. Following the Carnival, slogans from popular songs often become ingrained in the lexicon. One notable example is Big O's "Kase Lezo" or "break the bones" which became the nickname for the chikungunya virus in Haiti. This influence is most felt during the carnival parade as revelers tend to hang on to the artists' every word, jumping, swaying, taking off items of clothing, and raising their hands when so directed. Traditionally, with some exceptions, carnival songs have urged revelers to remain respectful and peaceful while dancing in the parade, guaranteeing a fun and safe time for all.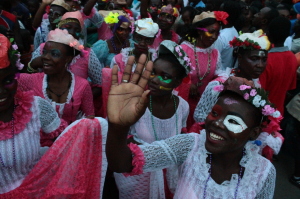 With such influence and a highly visible platform, the lyrics of Carnival songs are particularly impactful. This is why this year's songs by Power Surge and Mass Vokal are particularly problematic. Both songs show a total disregard for the humanity and well-being of women. In Power Surge's "Nap Manyen Yo" (meaning: We'll Touch Them), which features Frap La, the artists sing about touching women's bodies without their consent, specifically stating "n'ap manyen tout sa k' pa vle… n'ap manyen tout sa k' pa dakò" The two artists also take the time to list where in particular they will touch the women (I will spare you the details) and which types of women they intend on sexually harassing (lesbians, ghetto women, etc.). Power Surge and Frap La end their seven-minute misogynous anthem with an attempt at faux patriotism, telling the listener they can harass a number of the women in their family (their wife, their sister, their aunt), as long as they (the listener) do not mess with his country. At the time of writing, this song had received over 22,000 plays on Plezikanaval and major airtime on Haitian radios.
Mass Vokal's "M'anvi gwòs ou" (meaning: I want to impregnate you) while not as popular is equally repulsive. During most of this five-minute diatribe, the artist sings about wanting to impregnate women and walk out on them to "give them something to do" and "put them in their place."  Mass Vokal's view on women is slut-shaming at its best and an unfortunate reflection of gender relations in Haiti.
These songs are the result of lazy songwriting, showing a clear lack of creativity and imagination. However, in a country like Haiti where there is a high rate of sexual and gender-based violence, these songs are not only in poor taste and insensitive to rape survivors, they are also irresponsible and dangerous. When you combine a Carnival crowd that is typically under the influence of alcohol with a patriarchal culture that devalues women, these songs have the possibility of inciting sexual harassment and assault of women participating in the carnival.
Artists producing songs during the carnival season should be extremely careful about the messages in their songs. Songs promoting any kind of violence, especially violence against marginalized groups such as women, children, LGBTQ, should not be tolerated. While I fully support these artists' right to free speech and expression, I equally value the right of everyone – but particularly that of the above mentioned marginalized groups – to participate in the carnival without any fear for their safety and well-being. The Ministry of Culture and the Ministry of Communication should have measures in place to discourage artists from releasing songs that promote violence. Such measures can include: exclusion from the parade, punitive fines, etc. Radio and television broadcasters should also refrain from playing such songs.
The national carnival is a rich cultural tradition. This national heritage belongs to all of us and must remain an inclusive event, where children, women, and men feel comfortable to participate and have a good time. Had my mother feared for her safety or mine all these years, she would have never introduced me to this amazing part of our culture. I am certain this is true for most Haitian women and parents. It is our duty to keep this tradition alive by maintaining it as a space that is safe for all types of people. In the hopes of sharing a beignet and shot of rum with you on Champ de Mars, I wish you all a happy and safe carnival.
Feature Photo credit: Tina Cerin
Instagram: @TifiPhotography
Photo #2: Gio Jules
www.GioJules.com